The Healthiest Leafy Vegetable On The Planet
Watercress is an incredibly popular green, and for good reason. It's the healthiest leafy vegetable on the planet, with a delicious taste that stands out from many of the muted flavors other salad greens provide, and culinary versatility that is second to none. It's also one of the most nutrient-dense foods in the world, earning a perfect score on the ANDI nutrient density scale.
One of the most widely recognized vegetables globally, the word "watercress" is currently translated into 34 languages. It has been enjoyed since ancient times and is celebrated for its health benefits. Watercress has been a part of the human diet for, well, forever. It's eaten around the world, offers a distinctive peppery taste, a delightfully delicate crunch to a diverse range of dishes, and may help fight cancer. What's not to like?
Varieties of Watercress
Watercress is an aquatic plant best known for its vivid green color and unique flavor. However, a newly cultivated variety of red watercress has quickly established a strong following due to its stunning color and bold peppery taste.
This new variety of watercress with natural purplish-red hues is shaking things up and is an instant hit with chefs around the country. With the same high levels of vitamins and antioxidants as green watercress, it's also one of Mother Nature's most nutrient-dense foods. Exclusive to B&W, wild red watercress is available from November through April.
Our FAVORITE WATERCRESS Recipes
Our Products
Since 1870, B&W has specialized in watercress with a singular focus on quality. Our varieties are selected for superior flavor and consistent appearance.
Gourmet Watercress
Our flagship product, B&W gourmet watercress is vivid green and adds a delicate crunch and unique peppery flavor that enhances salads, sandwiches, pastas, soups, smoothies and more.
Wild Red Watercress…Exclusive to B&W
With vibrant red and green hues, our wild red watercress has a striking appearance, coupled with a slightly more intense peppery bite. It's packed with color, taste, and crunch, providing a pronounced and positive impact when added to salads, sandwiches, and entrées.
Available in both bunches and bags, B&W Watercress is triple-washed and ready to use in your favorite recipes.
Retail Products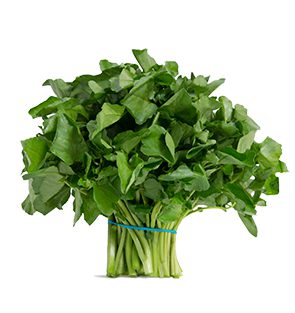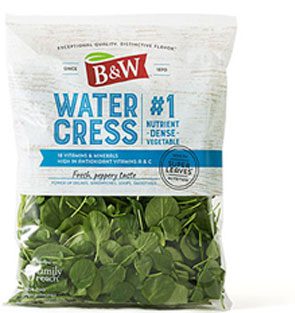 Food Service Products
Highlights From B&W
These special leaves are Nature's true superfoods and packed with flavor.