Enjoy Baby Leaves with Breakfast
Jumpstart Your Immune System:
As food growers, we're never ones to miss a meal, and definitely not the most important meal of the day – breakfast!
Not only does eating breakfast jump-start your metabolism, but it also gives your body and brain energy that will help you focus on slaying the day. In addition, studies have shown that eating breakfast is associated with a better overall diet and a higher intake of nutrients.
When you break your fast for the day, be sure to include some of our nutrient-dense greens. Our watercress, baby spinach, and baby arugula all support a robust immune system and contain impressive amounts of Vitamins A, B, C, and many other vitamins and minerals. That said, we're excited to present three delicious breakfast recipes featuring our very own vitamin-rich baby leaves.
We're delighted to highlight a decadent Danish with Spinach and Cream Cheese.
This delicious breakfast dish comes together in mere minutes thanks to frozen puff pastry. Our flaky, buttery, and creamy danish is an elegant dish that will wow you and your guests.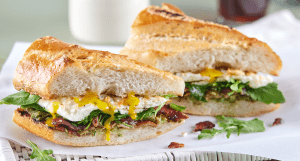 Kickstart your day with our tasty and nutritious Breakfast Baguette recipe.
This power-packed recipe incorporates our watercress, baby arugula, and baby spinach. Then add delicious eggs, bacon, and avocado to all of our fresh baby greens, and this breakfast sandwich will satisfy even the hungriest of eaters.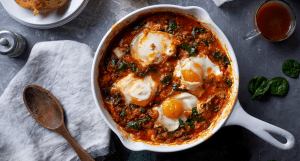 Finally, we have a twist on a classic with our Eggs in Purgatory with Spinach & Bacon.
This one-pot meal is a crowd favorite. Our version incorporates smoky bacon and our hearty spinach to help keep everyone satisfied for hours.
No matter when you break your fast, be sure to include some of our nutritious baby greens to boost your immune system. Find all of our favorite recipes today.
Learn more about B&W today.
Instagram: bwqualitygrowers
Facebook: B&W Quality Growers
LinkedIn: B&W-Quality-Growers
Twitter: BWQualityGrwers
Pinterest: bwqualitygrowers