Cooking Live Cook-a-Thon raises $454K for Family Reach
We're proud to be one of the premier sponsors for Family Reach's first ever virtual Cooking Live Cook-a-Thon. The event was hosted by Chef Ming Tsai and included Guy Fieri, Chef José Andrés, Carla Hall, Reese Witherspoon, Chef Amanda Freitag, Chef Aarón Sánchez, Paris Hilton, David Ortiz, and Ben McKee, bassist for the band Imagine Dragons. Many families associated with Family Reach tuned into the event, and watched the action happen live!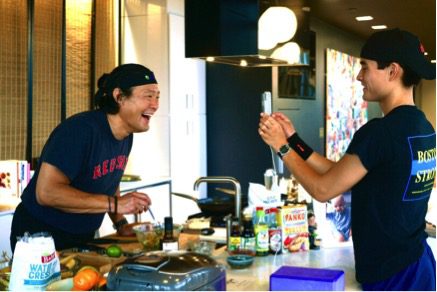 Family Reach, a national organization focused on providing financial support to families facing cancer, held its Cook-a-Thon on Instagram Live on Memorial Day weekend, May 22-24, and raised $454,321.81 to support families all over the country. Proceeds from the event will support Family Reach's Financial Treatment Program (FTP), which is focused on patient care.
During each segment, Family Reach CEO Carla Tardif shared more about the deep financial needs cancer patients are experiencing during COVID-19.
"Since this pandemic hit, many cancer families are experiencing even greater financial hardship and it's undoubtedly going to affect their survival rates. This event was so important to Family Reach because of the record-breaking number of families in dire need of support. We've always been an innovative organization so taking our celebrity chef event virtual at this time was an obvious choice. We knew we needed to think outside the box and are thrilled by what we were able to achieve. Best of all, I know all of the families we serve are also profoundly grateful" (Tardif).
"B&W Quality Growers has been supporting Family Reach for many years. When approached about sponsoring the Cooking Live Cook-a-Thon, we jumped at the chance. Given the current situation of our country, a virtual event to benefit Family Reach sounded perfect. B&W Quality Growers was happy to provide funds, product and social media support for this virtual event." ~Mark DeLeo, CEO. B&W Quality Growers
For a recap video of the Cooking Live Cook-a-Thon, click on https://www.instagram.com/p/CAxkbBWg1zI/.
For more information on Family Reach, visit www.familyreach.org and follow @familyreach on Facebook, Instagram, Twitter, and LinkedIn.